You don't talk like a machine… but you're a Gizmo Freak
Well ya! That's what people who know me would call me…!
My life is surrounded with "Gadgets"… quad core computers, laptop. iphone, ipod, xbox, gaming keyboard/mouse, the list is endless!
But this post is not about gadgets, it is about my non mechanical obsession… collecting funky shoes, yup shoes!
Usually I scout the internet and find some awesome stuff online. But at times I end up finding them in places that are least expected.Last year, December 2009 I had been to Sunburn Festival GOA, I was there for the music but as soon as I entered the electronic circus I found myself staring at something very special…
Shoes!!! Yes it was a shoe shack that was flooded with some incredibly designed shoes.
Now they were no ordinary shoes, they were custom hand painted shoes especially designed for sunburn music festival by Alpha Cube. There were three different designs; we picked a pair of all three. Honestly I wanted more for obvious reasons.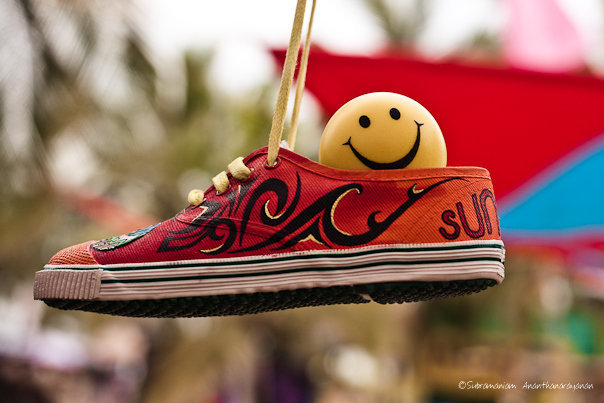 I was back with an awesome souvenir from sunburn. Soon I was hungry for more, I did ask them for their business card but I misplaced it somewhere. But hey if you are in business you got to be on the internet!
What do you expect from a search engine & social media freak? I found their My Space and Facebook page found and learned that Alpha Cube belongs to the creative brother sister duo Azra & Zainali Jethe, and the interesting story of how it all started for them.
I also found that Alpha Cube will make a custom shoes based on nothing else but your imagination.
As an internet entrepreneur I couldn't help thinking how unique businesses like Alpha Cube could build their brand and retail so easily using the online platform. Most business like Alpha Cube have done a great job of establishing their brand on social networks and are engaging with the users. Now it's only natural that they take it to the next level and start retailing online!
Businesses like these can quickly reach out to a larger user base and may not even have to stock large volume of inventory that probably a physical store would demand.
Moreover you go global with the least fuss! Who knows with an online platform Alpha Cube may just become the next biggest fashion rage in Brazil, while having no phycial presence in that country.
I feel online retailing or e-taling as it is called is the most underutilize opportunity for a small business..