On Saturday 31st Jan Big G scared the bejesus out of me. I Googled something and my sites showed up in search results with a shocking tag "This site may harm your computer" right under my webpage title.
Before going completely nuts, I Googled new term and this time it was "Google" and this is what I found… lol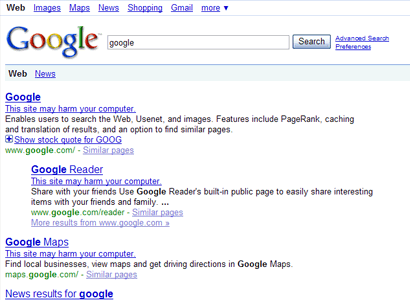 It turned out to be nothing but a small coding error by Google but an hour of mental trauma for Google users
Google's official blog post about this incident This site may harm your computer
What happened? Very simply, human error. Google flags search results with the message "This site may harm your computer" if the site is known to install malicious software in the background or otherwise surreptitiously. We do this to protect our users against visiting sites that could harm their computers. We maintain a list of such sites through both manual and automated methods. We work with a non-profit called StopBadware.org to come up with criteria for maintaining this list, and to provide simple processes for webmasters to remove their site from the list.

We periodically update that list and released one such update to the site this morning.
Google team quickly found this error and fixed it. Thanks Big G