This post is dedicated to all the trance buddies who missed the fantastic sunburn electronic festival!
What is Sunburn festival?
Sunburn is Asia's biggest three-day electronic musical event held at Candolim beach in Goa. Sunburn offers live performances by top DJ's from all over the world, check the DJ lineup below (get more info here)
I attended Sunburn with my 2 "Big" bros and my Bhabhi.. lol  (Sudish aka Prem, Chetan and Unmisha aka Bhabhi )
My magical journey began with a road trip,.. we started on 26th Dec at 6:00 am and touched the sands of GOA at 6:30 pm…I heard Prem saying "Sun rises in Mumbai and Sets in Goa" though some of the songs on my bro's iPod somewhat killed the fun of a road trip, (he listens to Phir Teri Kahani Yaad Aayi, Pankaj Udhas, Aashiqui). Don't believe me? Just check the screens below that I took from his iPod touch)
Anyways, I said "Fuc* it, anything for Armin!" Oh! I should mention this. The egg curry at (Sai Plaza Kolhapur, Maharashtra ) totally rocks! Do give it a try

Dec 27th – Sunburn Festival Day One
Let me tell you, if you are taking your car to GOA in December then it's a bad idea! No parking space, insane traffic = total CHAOS!!!.

We noticed the problem and found a great solution straightaway, a "two seat bicycle"
Something which no one else had in GOA 😀 and it was a great experience riding one on the streets of GOA.
The Peddlers in GOA
[flv:http://www.samirasher.com/sunburn/peddlers-in-goa.flv 427 380]
I know what you're thinking after watching the video…such a lucky dude, well let me tell you something… I was feeling like one till the end of the day, but riding one of these on Indian roads is a big challenge and with any challenge comes some amount of pain…Piercing pain in unmentionable body parts  AAAAAHHHH!!!
[kml_flashembed movie="http://www.samirasher.com/sunburn/pain.swf" height="380″ width="427″ align="center" /]

That's it! I was there staring at the DREAMLAND all set to get Sunburnt, but the 30 minutes delay by Sunburn team due to preparations was killing us, so we decided to take a quick tour of Candolim beach to relieve some pain. But as you can see in the pic, the disappointment on our face is clearly visible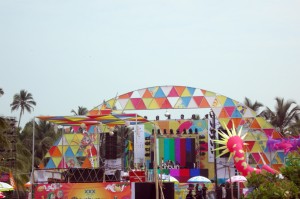 Finally we entered the electronic circus and it was far more awesome than what I had imagined. The SUN, SAND, BEER, and MIND-BLOWING music. DJ Inferno & Ritesh at the shack with Nikhil Chinappa and an amazing crowd.
Electronic music was not the only thing. Sunburn was also offering rock climbing wall, hookah stalls, exceptional shoes, neon glasses etc. There was something for everyone
After a while, we moved out to grab some lunch and later to the hotel…I already had the DJ lineup with me so I knew which gigs I can't afford to miss, after all I was dependent 🙁 as I was attending Sunburn with 3 people who don't like electronic music at all. They didn't even know Armin Van Buuren, DJ Sultan until a month back! But thanks to internet "Google" they did a quick research on Sunburn and the DJs so they can rant on Facebook, Twitter LOL!
Alright, going back to Sunburn day one, I knew that was no matter what happens, I shouldn't miss DJ Sultan. I became a huge FAN of DJ Sultan when I first heard Sultan and Tone depth mix "which takes you someplace else ;)" and BT Rose Of Jericho (Sultan & Ned Shepard mix) which I remember playing repeatedly on my iPod for days, well just check the DJ sultan video from Sunburn that I captured,  you can see the camera shaking…the music was so COOL I just couldn't stand still.
It was just perfect, truly magical first day of Sunburn and the view from my neon glasses was so great, I can't even explain you where those neon lights and such cool music can take you!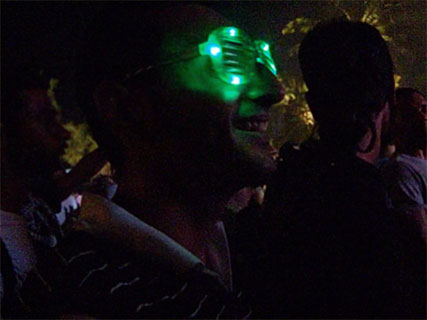 My Psychedelic Journey – Sunburn Goa – Day Two >>
(Visited 20 times, 1 visits today)